Gita Study Group
Friday, July 15 - 7:30 pm
Please join us on Friday, July 15 at 7:30 pm for our monthly Bhagavad Gita Study. We will start on page 503, verse 29, chapter IV. God Talks with Arjuna - The Bhagavad Gita.
Note:
Please note that due to Convocation preparations, we will not have a Service Day in July.
Young Adult Group
Sunday, July 17 - 12:30 pm
Self-Realization Fullerton Temple offers special activities for adults between the ages of 18 and 39. Our next meeting at the Fullerton Temple with monastics will be on Sunday, July 17, at 12:30 pm. If you are interested in knowing more about upcoming activities, please email to:
srffullertonya@gmail.com
.
Six Hour Meditation
Saturday, July 23 - 9:00 am
On Saturday, July 23 there will be a Six Hour Meditation beginning at 9:00 am and lasting until 3:00 pm. The meditation will be led by Bro. Devananda. This is a great opportunity to join fellow devotees for deeper practice of our Guru's techniques in a group setting. Please join us on this special day as we tune in with God and the Great Ones. This replaces the regularly-scheduled Saturday evening meditation
Mahavatar Babaji
Commemoration Day
Monday, July 25,
Meditation - 6:30 pm,
Service - 8:00 pm
A devotional service commemorating Mahavatar Babaji will take place on Monday, July 25. The service begins at 8:00 pm and is preceded by a one hour meditation at 6:30 pm. It is customary to bring a flower and a donation in an envelope to be offered during the service. All are welcome.
Mahavatar Babaji
Self-Realization Fellowship
World Convocation
August 7 – 13, 2016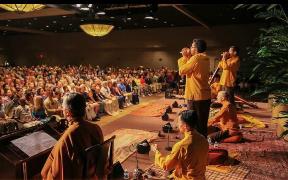 Highlights From Past Convocations
Self-Realization Fellowship cordially invites all to the 2016 World Convocation, an inspiring week of spiritual fellowship and classes on the teachings of Paramahansa Yogananda.
Please check
www.yogananda-srf.org

for event and hotel information, and to register online.
Tickets for Convocation Evening Classes:
You may purchase a Convocation Evening Classes and Closing Event ticket in our Fullerton Temple Bookroom. The cost is $210.00. The ticket admits you to all evening classes from Sunday through Friday, and the closing event on Saturday afternoon. Seating is in the Pasadena Room. The last day to purchase these tickets in the Fullerton Temple Bookroom is Sunday, July 31. After that, tickets will be available at Convocation in the Santa Anita Room at the Membership Service desk or 45 minutes before the evening classes outside the Pasadena Room.
Tickets may also be purchased by telephoning the Mother Center Membership Services Line at 818-549-5151, Monday through Friday, 9:00 am - 5:00 pm.
List of Fullerton Temple activities canceled during Convocation
Due to the many Fullerton Temple volunteers serving at Convocation, some of our regularly held Temple activities in the month of August have been canceled.

Please see the list below:
August 6 – The Morning and Evening Group Meditation on Saturday has been canceled.
August 7 – There will be no Sunday School classes, and the Fullerton Bookroom will be closed.
August 8 – The Women's Asana class has been canceled.
August 11 – There will be no Thursday Evening Lecture Service, and the Bookroom will be closed.
August 13 – The Evening Group Meditation on Saturday has been canceled.